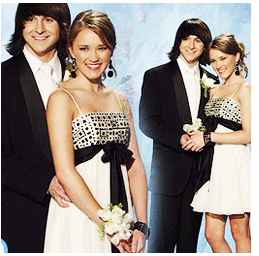 Lilly Truscott, best friend of Miley Stewart, is currently girlfriend to their other good friend Oliver Oken!!! The pair began to date halfway through seaason 3, beginning the relationship in "What I Don't Like About You"

They have both admitted that they love eachother. Their nicknames for each other are Ollipop & Lillypop. In the season 3 finale, Oliver has the opportunity to go on a 6-month tour with a band, but (thankfully!) he and Lilly don't break up.
In season 4 (Hannah Montana Forever) Oliver returns after 2 months for a visit, but brings a secret about Jake.
Oliver will probably return in later episodes.
Loliver Moments (Seasons 3-4)
Edit
What I Don't Like About You:
Edit
At the beginning, when Miley goes off to change, Lilly and Oliver have their first kiss :)
When they are at the beach explaining to Miley of how they began dating, Lilly rests her head on Oliver's shoulder and both of them smile.
Lilly and Oliver argue over which band is better, Coldplay or Radiohead.
When Miley's home-made movie is finished, they apologize and lean in for a kiss, but Miley stops them.
When they are leaving the house at the end, Oliver has his arm around Lilly's shoulder.